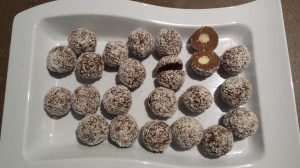 A guilt free nutritious yummy almond choc snack!

What you need:
1/2 a cup of whole raw Almonds (can use almond meal)
5 spoons of Herbalife Vanilla Shake Mix
2 tablespoons of Cacao Powder
2 capfuls of Vanilla Essence or 1 tsp of Vanilla Paste
1 tablespoon of Coconut Oil (melted)
100ml almond or soy milk
extra 11 Almonds (cut in half)
Shredded coconut
What to do:
Place the jar of coconut oil into a bowl of hot water to melt before measuring. In a food processor grind up the 1/2 cup of raw almonds. Add in the shake mix, cacao powder and the coconut oil. Add in the milk slowly until the mixture has completely blended. The mixture should look like peanut butter consistency. Divide mixture into ball size lumps and leave to sit for a few minutes to set a little. The mixture can be quiet sticky at this point. After a few minutes roll each into smooth balls and push half a cut almond into the centre and roll in. Roll each in coconut. Now put in the freezer for 20 minutes to set. Once set store in an air-tight container in the fridge or freezer.  The mixture should make approximately 22 balls, depending on how big you make them.  Enjoy!