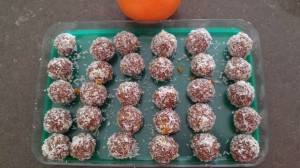 My daughter made up a this one for me! Mmm they taste so good too! Mmm Jaffas..
What you need:
1/2 a cup of Almond Meal (or you can use raw almonds)
1/2 a cup of Coconut Flour
4 spoons of Herbalife Vanilla Shake Mix (add in more if you like)
1 tablespoons of Cacao Powder
5 dried Apricots (shredded)
3 tablespoons of Coconut Oil (melted)
Zest from a whole Orange (add in more or less for taste)
Juice from 1/2 an Orange (add in more if needed)
Desiccated or Shredded coconut
What to do:
Mix all dry ingredients together.
Then mix in wet ingredients and add in shredded apricots.
Add in more Juice, if needed or add in more flour if too wet.
Divide mixture into ball size lumps and leave to sit for a few minutes to set a little. The mixture should make approximately 30 small jaffa balls, depending on how big you make them. Roll into smooth balls and roll in a mix of coconut and orange zest.  Pop into the freezer to set for 20 minutes.
Once set store in an air-tight container in the fridge or freezer.  Enjoy!