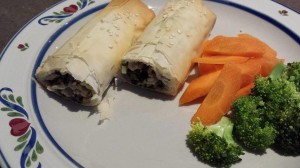 How I made this one.
Ingredients
chicken mince (or chopped chicken), filo pastry, 2 zucchinis, 2 leaves of silverbeet, 4 kale leaves and half a red onion, garlic and fresh basil.
My quick method
Grate zucchini. Finely chop silver beet, kale and onion.
Pan cook chicken with a little canola oil and some fresh garlic.
Add in vegetables and cook further.
Add in a little salt & pepper and whatever spices/herbs/seasoning you like.
Wrap mix into rolls using 1 sheets of filo pastry at a time.
Lightly spray with canola oil and sprinkle with sesame seeds.
Cook in oven until lightly brown and serve with whatever extra you like.
e.g. broccoli or beans & carrot.
Alter recipe to suit yourself!  Enjoy!
Save
Save