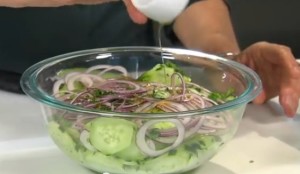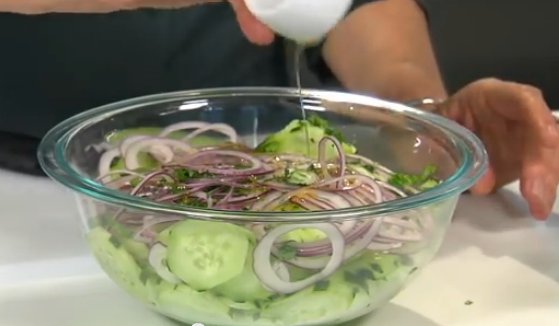 If you have never had a cucumber salad, you may be surprised at how good it is. This delicious cucumber salad makes a great side dish and snack.
It tastes great and is practically calorie-free. It will stay nice and crispy for a few days in the fridge, so you don't eat it all up the first day.
Susan Bowerman, registered dietician shows you how to make a quick and delicious cucumber salad with just a few ingredients.
Here is a list of the ingredients and a list of the alternate ingredient variations.

Ingredients:
Thinly sliced cucumbers, red onion, cilantro herb.
Other Ingredient variation:
Add grated carrots, thinly sliced red pepper, dill or parsley herbs.
4 Part Dressing:
1. acid: lime juice.
2. sweet: agave syrup.
2. Salty: table salt.
3. Peppery: red pepper flakes.
Other Dressing variation:
1. acid: lemom juice, rice vinegar, tarragon vinegar or white vinegar.
2. sweet: white or brown sugar, maple syrup or sweetener.
2. Salty: soy sauce or fish sauce
3. Peppery: ground white or black pepper or Cayenne pepper
Watch the video and Susan will show you how to do it. 

(video length: 8 minutes)