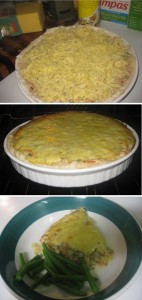 My quick method:
Base
– 4x Fillo Pastry sheets
– Canola oil cooking spray
Spray fillo sheets & lay overlapping in quiche dish. Fold in any edges.
Filling
Mix together:
– 1 can Pink Salmon (approx. 415g – remove bones)
– 1 cup skim Milk
– 3 Eggs
– 1/2 onion
– Plus any other vegetables you want to add in.
e.g. spinach, tomatoes, mushrooms etc…
– Season with chives, lemon juice, salt & pepper
Add in any other spices/herbs or seasoning for taste to your liking!
Pour mixture into dish over fillo sheets.
Topping
– Shredded reduced fat tasty cheese or light mozzarella cheese
Sprinkle shredded cheese on top.
Bake for approximately 40 minutes. Serve hot or cold. Try smaller serving size with extra vegetables on the side or larger portion if you have more vegetables in the quiche.
For some reason I find it tastes better the next day, as it tends to lock in all the moisture and the flavour comes through more! The photo below is it just cooked and hot from the oven. I make it different each time and so can you!
Tip
Make a double batch and cut up and store in freezer for those times you are too busy to cook!