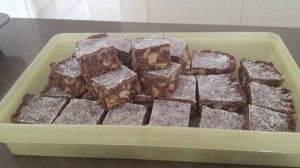 The healthy hedgehog slice alternative that tastes so nice!  It is so healthy but so yummy too!  This is my faviourite treat snack recipe at the moment. I just love it and the kids love it too!

What you need:
Cookies:
4 scoops of Cookies & Cream Shake Mix
2 scoops of Vanilla Shake Mix
75g of Wholemeal Flour (or use gluten free flour, if you prefer)
1/3 cup of Almond Meal
1 Egg
25ml pf Soy Milk (or whatever milk alternative you prefer)
50g of Nuttelex
Base:
1.5 cups of Pitted Dates
3/4 cups of Almonds
1/2 cup of Water (add more if mix is too stiff)
3 scoops of Chocolate Shake Mix
1 scoops of Cookies & Cream Shake Mix
1 scoops of Cacao Powder
3 tbsp of Coconut
50g of Walnuts
1 batch of broken up Herbalife Cookies (approx. 10)
Topping:  (optional extra)
25ml of soy milk (at room temperature)
2 scoops of Chocolate Shake Mix
1 scoops of Cookies & Cream Shake Mix
50ml of Coconut Oil (melted)
What to do:
Make the cookies first:
In a large bowl mix shake mix, flour, almond meal. Add and mix in egg, milk, melted nuttelex. Use hands to roll mix into small round balls and flatten on lined baking tray. Bake on 160C in the oven for 10-15 minutes or until golden brow then take out to cool.
Make the Herbie Hog base:
Blitz dates, almonds and water in food processor until smooth. (can be slightly chunky) Add in the shake mix, cacao and coconut and processor further until combined. Put in a large bowl. Break cookies over date mixture and stir in then add in walnuts and stir again. Press mixture into lined square brownie tin (approximately 18-20cm square).
For topping:
Combine all ingredients in bowl to create fudgy consistency. Spoon over slice and smooth down with a flat butter knife. Decorate with extra coconut and place in the freezer until set.
*Tips*
I cut this this batch into 25 pieces then stored in air-tight container in the freezer to have a treat when we need it! Double the mixture to make a bigger batch.