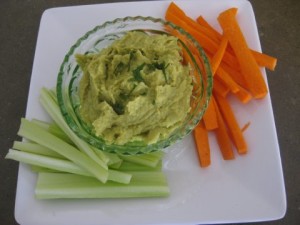 Great healthy protein spread to have with your snacks. Have it on your own or to share with friends and family! Tastes delicious!
What you need:
1 can of chickpeas drained
(save liquid to use if mix is too thick at the end)
1/2 to a whole avocado
Fresh juice from a lemon
Fresh Garlic
Fresh Basil
A sprinkle of Cumin
A little salt (if you like)
* You decide how much or how little flavour you like!
* If you don't like avocado use approximately 2 tbs olive oil instead.
What to do:
Put all your ingredients together in your processor or I use a hand barmix and blend. If it looks like it is too thick then add a bit of the juice from the chickpeas.
Tips:
Serve with cut up vegetables or spread over wholemeal biscuits or bread. Topped with sliced tomatoes or cucumbers. Delish! I love it spread on Ryvitas.YUM! Feel free to top it with fresh mint for serving. Store leftover mix in air-tight container in fridge to keep fresh and eat over the new few days!
Great healthy spread! Enjoy!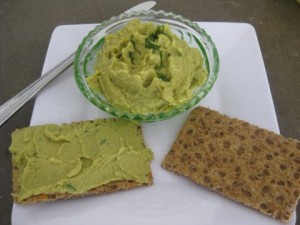 Save