Healthy snack time!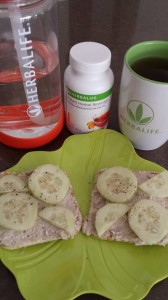 Tuna dip or a spread!
What you need:
– tuna (in brine or springwater)
– cottage cheese (reduced fat)
– fresh lemon juice (from 1 lemon)

Extra ingredients as desired: (finely cut)
– fresh garlic
– parsley flakes
– white, sweet, red or spring onions
– shallots
– celery
– red peppers
A little salt (if you like)
* You decide how much or how little flavour you like!
What to do:
Put all your ingredients together in your processor or I use a hand barmix and blend. Add more or less of any ingredient to suit yourself!  Easy!
Serving Suggestions:
Use as spread on wholemeal biscuits/crackers (e.g. rice cakes or ryvitas) topped with cucumber slices and/or tomoto and a little pepper.
Spread on sandwiches or a slice or wholemeal bread.
Spread on sliced cucumbers instead instead of crackers.
Serve as a dip and fhave with fresh cut vegetable sticks like carrots, celery, cucumber, capsicum and crackers.

Have the snack with a cup of our fat burning energy tea! Instant Herbal Beverage! Mmm…
Tips:
Make a batch of spread and put in air tight container in the fridge. Lasts for ages. Great for all types of snack options!
Save