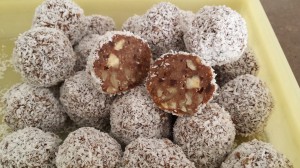 This recipe was inspired by herbie hog slice recipe. It has the same yummy taste but quicker and easy to make and it tastes so nice!  It is so healthy and yummy too!  My kids love them!

What you need:
1.5 cups of Pitted Dates
3/4 cups of whole raw Almonds
2 scoops of Chocolate Shake Mix
2 scoops of Cookies & Cream Shake Mix
1 scoop of Cacao Powder (add in more or less)
3 tablespoons of Coconut (desiccated or shredded)
1/2 to 1 cup of Walnuts (alter amount to suit yourself & also type of nut)
1/2 cup of Water
What to do:
Soften dates with 1/2 cup of water (for at least 10+ mins) then drain and keep water liquid.
Blitz almonds in food processor on their own first, then add in softened dates and blitz again. Add in date water liquid back into the mixture and bliz again until the mixture is smooth. It can be slightly chunky.
Now add in the shake mix, cacao and coconut and processor further until combined. Put mixture in a large bowl. Cut up the walnuts into small pieces and add to mixture and stir through.
Break mixture into ball size chunks on tray and leave to sit for a couple of minutes then roll smooth into balls and roll in extra coconut.  I normally make 26 to 28 balls.
They are quite soft at this stage so place in air-tight container and put freezer until set.  Keep stored in freezer and eat 1 or 2 when you need a yummy but healthy treat snack!
*Tips*
You could mix in 1 – 2 tablespoons of melted coconut oil into batch to help set the mixture further.
You could try the same mix with a different nut (e.g. almonds or hazelnuts) or dried fruit or just have it plain.
If you are looking for a nut free recipe then try mixing either oats or natural oatban or coconut flour instead of almonds into the mixture and skip the walnuts as well.
A big thank you to Cecilia Korn for the initial herbie hog slice recipe that inspired me to make this one!